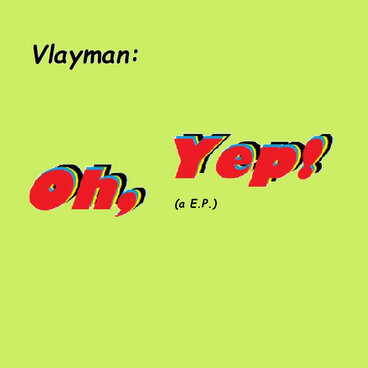 <– click
1. She'Nyah (Super Kid) 04:59
2. Oh, Yep! 03:35
3. Scratchin' at My Door 03:41
4. I Need Work 03:49
5. Where the Heavy Breaks 03:56
This here is heartfelt. This here is the sound guitars
make when they feed pedals destroying amps.
This is the sound of a new (to me) bass and some
really old pre-amps and compressors, tubes and strings.
This here is noisy. I pro'ly ain't made that clear so,
I'll say it this way: This here is NOIZY.
So, please, set it to play loud, and then turn it up some, aiight.
Finally, poopie language warning: kids, don't let yer moms hear this.
released July 24, 2018
All noises by Vlayman and his toys except the drummage, what was nettage (edited).
All songs by Vlayman except lyrics co-writ with L. Bradley Schwartz on
"She'Nyah (Super Kid)".
Writ, derranged, playt, recurded, mixt, masturd at FetaCentralRecording DDL, July 4-23, 2018.
Fartwerk by Jose Jones.
c. 2018, all rights reserved, all rites observed.
Filed under: Uncategorized | Leave a comment »