A rather respectable professional commented on my story as quoted above. Here's the story, simply an exchange of emails earlier today regarding a Craigslist ad:
The ad, https://chicago.craigslist.org/chc/muc/5885835054.html:
Please read ad in full detail before responding.
My name's Jeremy Mazuca. I have been around music and musicians my whole life through family and friends. Some grammy winners. I have great ears for musical talent. My experience with the music industry is from birth. I was born into it. I am president of My Playlist Records. MPR is an independent record label that caters to all genres. Now with that being said, I do not accept Christian Music because this falls under a whole new market. Hip hop and rap I am not a huge fan of however it is accepted within my label as long as it fits a certain criteria. The only rap I would accept is lyrical poetic rap. Influences like: common, mos def, nas, mf doom, eminem, lupe fiasco, slum village, wu tang clan, outcast, etc. Most music I get is not what I'm looking for. I have to be picky in regards to what sells in media music stores. If I just sign anyone or someone who sends me music where I have no emotional connection, it won't sell. When I listen to your music, I need to feel something in my soul. I am not here to waste time. If you are thinking of joining a label via a legal binding contract, contact me. I get a lot of interested people whom send decent music and when I respond, I don't here back from them. I also get people who can't handle constructive criticism. If you waste my time or bs me, I will just block you and ignore you. I currently am starting my label from the bottom meaning I don't have money to invest in you yet. "You" would be a band, composer, or artist. I can't pay for recording time, radio time, tv time, etc. So right now I am currently offering: marketing, p and r, worldwide connections, world wide touring opportunities, advice on your music and brand, unlimited digital music distribution, and will help you along your musical career to the best of my ability. I would like to have a big business one day. I would like to earn with you some music awards one day. I am not just in this for the money, although it would be awesome to have a chauffeur one day. I do this for the love of music. As a label, my job is to sell and promote your music. I also will help build you a large audience and fan base. I am located in san antonio tx so if you are out of state, it is not a problem. Out of state musicians are very welcome. Composers are widely welcome because the video game, tv, and film industry need your talents. I do not want to be questioned of my experience. I have nothing to prove to anyone. I am a new upcoming label but I am the best marketer and promoter you'll find when it comes to music. I am looking for artists or bands whom have no music released yet. iTunes, Google play, Amazon, and Spotify all have deadlines so the sooner you send me music the better. Bandcamp, reverb nation, soundcloud, youtube, or any track I can easily open and listen to will be accepted. I listen to demos on a daily basis. Don't worry about copyright infringement when it comes to sending me music. It is a federal crime I have no use for. Please send me music that is ready to be sold and put out to the public. Serious inquires only. Only those who are hungry for success as I am. I do have a Facebook at My Playlist Records.
===========================================
Me:
These are demos for a current recording project – these are songs written and recorded by me with our drummer within the last 6 months.
We are currently recording new material as a 3-piece, and searching for a possible 4th.
I own all rights to this material.
https://vlayman.bandcamp.com/album/a-long-year
If you believe something fits with what you are doing, I can be reached at
mick: 312-***-****
===========================================
it:
Don't need demos. Need songs ready to be sold
===========================================
me
Don't need attitude. Forget it.
===========================================
it:
you are lucky i'm not a major label. Your ass would get shot for running your mouth.
===========================================
me:
Very professional, douchebag.
We both know a  "major label" wouldn't shoot someone, much less threaten them.
My ex was from Texas and you scare me not at all.
Now, don't be such a pussy and listen to the music.
If there's something there you can use, we'll talk.
If not, good luck, and thanx for the laugh.
===========================================
it:
don't be a whiny little bitch.
A major label would chew you up and spit you out.
I've been in the music industry my whole life.
28 years.
I just said I don't need demos as my ad stated. Apparently you can't fucking read.
You are a retard.
You got butt hurt. Your music is mediocre at best. don't come to any label until you are ready. You are wasting my time and money. You are lucky i'm not charing you for your ignorance.
===========================================
me:
Ha!
Name-calling? '-D
What are you, all of 28?  So that's 10 years, at most?
And still no money made to invest in your so-called "label"?
Daddy or mommy or your boyfriend gave you a cuppla bucks because you couldn't cut it in school?
Can't play a lick so you wanna be a industry parasite?
Can't get laid so you wanna hang with musicians?
We've been posting under 20 minutes and you claim to be able to evaluate my music?
Mid-afternoon and you are still hung-over?
Your alleged "label" name and graffic is as lame and silly as your unprofessional attitude.
I think I may write a song about you even as I post quote your emails to every real music-industry person I know.
Once again, good luck, take an aspirin, consider selling your guns and getting some counseling.
===========================================
Apparently looks like this: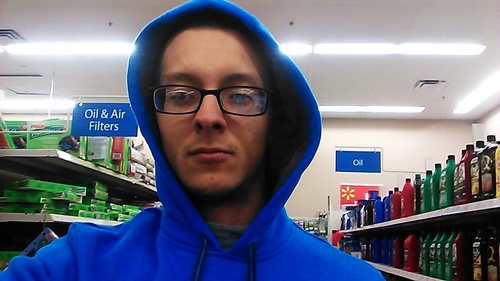 _________________
bandcamp; vlayman;
THD; blog.
I mix with olive juice.
Filed under: Uncategorized | 1 Comment »